Thank you for being here! I am currently writing about what I've read in 2015 in a series of posts.
In case you missed it:
On my anniversary, my husband and I were iced in and couldn't go to OKC as we had planned. Instead, we went to the library and visited a used bookstore, which is a story in and of itself. Suffice it to say, we'll never go back. I did, however, find a copy of this book, Shane, by Jack Schaefer. My dad enjoyed watching the movie when I was growing up, but I never really stayed with it. I only saw the very end where the boy yells, "SHANE!" into the distance as the cowboy rides away. I do like Western novels though, and Shane did not disappoint. I think the book is better than the movie, since I did want to finish the book. Shaefer does an excellent job of showing Shane's character, and his father's, without having to tell us a thing. It's one of those stories that makes you wish that real life could be the way it is on the printed page.
Terry read The Heavenly Man by Paul Hattaway when a friend gave him a copy about five years ago. However, he gave the book away to a friend before I had a chance to read it! I was happy to get my own copy in January. It is another missionary biography, but I must admit, parts of this story seemed almost too incredible to believe! Brother Yun, a Chinese Christian, receives a Bible in a miraculous way. He is born again and strives to learn the ways of our Lord. In doing so, he is imprisoned and tortured, but then, he sees many miracles: his wounds heal instantly, prison doors open of their own accord and he walks out, guards are blinded to his presence, and more. Some of the miracles seem too much, as though exaggerated for the telling. But who am I to say? God is able, and perhaps He did these things. Read it and decide for yourself.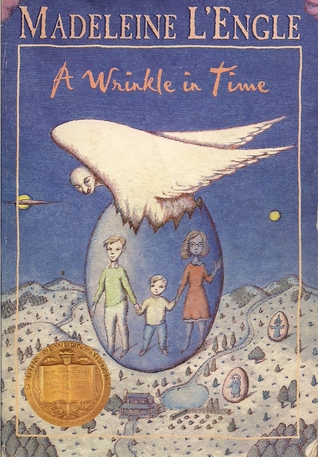 A Wrinkle in Time by Madeleine L'Engle is Lauren's favorite book! She recommended it with the words, "I've read it many times." I have to say that after reading the back cover, I didn't think I would like it. I learned the truth of the age-old maxim, "Don't judge a book by its cover"! I really loved the characters in this story, and it has a great ending. What more could you ask for in a book? I'm glad I read it.
Our church library had The Postcard by Beverly Lewis and the plot piqued my interest. I have enjoyed Amish novels in the past, and had high hopes for this one. A young Amish woman loses her husband, son and unborn baby in a wagon accident. The trauma from the event blinds her, which I'd never heard of before. She the must raise her daughter with the help of her parents. Her parents try to convince (nag and pester) her to see a "pow-wow" doctor, practicing black magic. I didn't know the Amish held any such beliefs and found it odd. Like many of Mrs. Lewis's books, they never do wrap up, leaving room for a sequel. It took me a while to finish it because it was boring. I don't care enough about any of the characters to see what happens next. I've read other books by Mrs. Lewis that I enjoyed greatly, but this wasn't one of them.
The Lemon Jelly Cake by Madeline Babcock Smith is a sweet (pun intended) story told by an eleven year old girl growing up near Springfield, Illinois, at the turn of the century. I heard about it through a friend on Goodreads. I got a copy for free as a member of paperbackswap.com. It is an interesting tale woven around people, not events. Things do happen to keep you wanting to read, but it's because you are drawn into the lives of Dr. Frank Bradford, his wife, Kate, and of course, their daughter, Helene, who is telling the story, as well as members of their small town. There is a reference to an adult situation, but because we are seeing it through the eyes of a young, innocent girl, it is not described. There is nothing astounding in the book, but it's a fun, relaxing read. If you enjoy stepping back in time and tasting a bit of Americana, then you'll enjoy The Lemon Jelly Cake.
Thanks for reading about what I read.
Stay tuned for part three!